Aloha, honey's! Today's post will be the first of many maternity/pregnancy posts. I had been putting it off for the last few weeks as I just thought no one would be interested in them however with every outfit picture I post on instagram where I'm sporting my new (17 week old) bump, I get lots of lovely ladies telling me that they wish they looked more stylist pregnant and asking me for tips on staple pieces they can add to their wardrobes whilst they're beautiful bodies are growing a little human inside!
The bigger I'm growing, the more I'm adjusting and sussing out what works when I'm pregnant and what will have to get packed away until I'm normal size again :-). The fundamental thing you have to think about when you're pregnant is
comfort
with style taking a slight backburner. However, that
doesn't
mean you have to throw feeling good out the window at all! Every woman deserves to look and feel amazing no matter what. Being pregnant, your hormones are all over the place so it's good keep everything else as normal as you can as you can still feel at least a little bit like yourself :-)
This post is going to be sharing a couple of my favourite staples for every retro expectant Mumma. Dressing for pregnancy means you don't always have the best selection of clothing on offer to you in general so sometimes have to be creative by using accessories to jazz up an otherwise plain outfit. Don't forget about your beloved swing swings - just wear them higher up than you usually would... I can
just
about squeeze mine on still!
They are great for growing tummy's and they're possibly one of the most comfortable things you'll ever wear. Just make sure you find some adjustable or stretch ones, or you can just size up like I would do with these Tesco pairs that are currently on sale at the moment for just £6 and make sure they're high-waisted so they sit nicely over your bump. They also come in black, too. I would pair these with either a vest top/t-shirt tucked in or I'd wear shirt tied for a cropped 40's look. For shoes, any flats looks great with swing trousers, but sandals or plimsolls would also look cute!
Stretch Pencil Skirts
These will be your best friends during pregnancy! Stretchy, comfortable and versatile. You can pick them up super cheap from just about everywhere in every colour. They go with everything from Bardot tops to cropped sweaters to a gypsy top and can be dressed up or kept casual. Peplum stretch pencil skirts also work amazingly as maternity wear.
How I styled mine!
Jersey Midi Dresses
There are lots of styles and patterns out there but I think it's worth getting a couple of staple colours for your maternity wardrobe. These are definitely the kind of thing you can accessorize like crazy! Brooches, bangles, necklaces, hair flowers, belts... The possibilities are endless.
Cara Midi Dress, Bohoo £8
Philippa Midi Dress, £10
Bardot Tops
These are a refreshing change from your standard t-shirt and definitely have a more retro feel about them. The great thing is they even have maternity ones, too!
New Look, £5
Cropped Maternity Jeans
The perfect addition to any retro expectant mother. Paired with a striped tee or a Bardot top and nylon scarf for instant pinup pregnant perfection. A staple!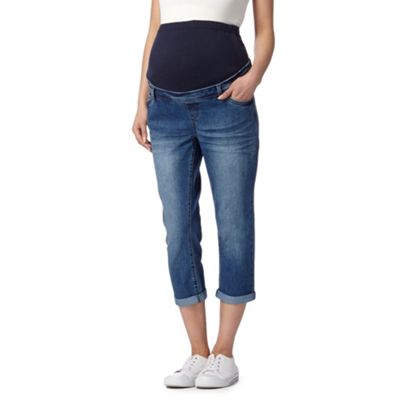 Debenhams, £14
Dungaree's
They are my weakness! I think they look so cute with a bump and you can literally wear them with anything!
Asos, £39
Topshop, £45
That concludes today's Maternity Style Tips :-) I hope you enjoyed and possibly got some ideas. Remember - jersey is your best friend! Let me know if you have any style tips!
All my love,