Aloha, Tiki Queens! Today's post is something a little different. I've wanted to do more 'personal' posts for a while... For a number of reasons, but mainly because I just feel like I want my blog to be more identifiable to Moi. I want to put more of my personality into it and have that 'Atomic Amber' sparkle ;-). I have been struggling to think of a title for this post for a while now, but I've decided to write the post and then tackle the title! Let's hope I'll have come up with something good by then! ;-D
I have always been a girl who dreamed of living in America... Palm trees, cacti, eternal sunshine, deliciously-bad-for-you-food, open highways, diners, big classic cars and colourfully kitsch streets. Admittedly, this is probably a very very small part of America that I'm lusting over, but boy I lust over it hard! So this little list will be my dream places to visit <3
To all my kitsch-loving pinup's out there... PREPARE TO SWOON!!!!!!
First things first, we have
The Pink Motel/Cadillac Jacks
... Located on Sun Valley in California. It's one of the best filming locations in the whole of L.A. and when you see the picture's you'll know exactly why...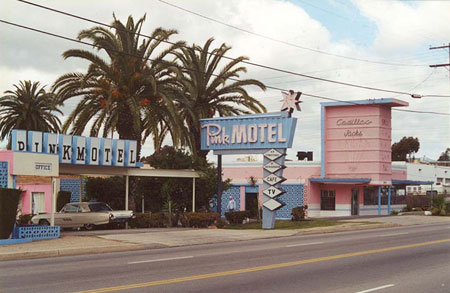 CV
(Sorry for the crappy image quality for the Diner, but it's the only one I could get!)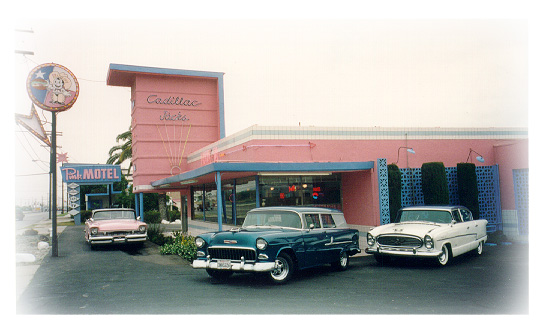 Frankies Tiki Room
. If you followed the #VLV hashtag then you would have definitely seen this amazing tropical haven. Located in, obviously, Vegas... This place just makes me want to cover myself in orchids and drown in cocktails.
Doughbox Diner
, Enmore, Australia. My one non-US exception. I discovered this little gem on Instagram after falling in love with the gorgeous 'Diner Doll'. They are the home of the famous Crepe Cone and boy, I'd love to try one! ;-D
Pinup Girl Clothing
is a favourite among, dare I say, every Pinup girl. That goes without saying, but for us Brits bar a couple of locations across the country which have limited offerings there isn't really a way we can try on or see their gorgeous clothing in real life before buying. Aside from the amazing clothing there is also the infamous staff who work at their boutique in Burbank, US. And of course their incredible events, including their Yard Sale & Prom. Can I please just live there?
(Sorry for the poor quality pictures - it's surprisingly hard to find pictures of inside the actual store!!)
The Madonna Inn
. Actual Heaven. I can't even handle the perfection of this place. Located in California. I'll let the pictures do the talking on this one.
The Neon Museum/Boneyard, Las Vegas. A place where old neon signs go to retire.
And that concludes my little list of places I dream of visiting. I know I've probably forgotten a load but never mind. If I think of more I'll do a continuation of this post. Let me know if there's any rad places you know I'd love or what your bucket-list places are!? Or if you've been to any of the above places! Go on, make me jealous xD
Thank you for reading! I hope you enjoyed!
All my love,
Disclaimer: All images found on Google. If you own the image and would either like to be credited or have the image removed then please feel free to let me know!