Goodness me! You girls must be getting sick of my bargain ramblings BUT I just can't help myself. I just know that if there was another blog like this I would read it all the time (Is that vain?) - because I am forever on the hunt for vintage/pin up-style clothes for a fraction of the price as brands like Collectif and Hell Bunny. Let's face it- it is coming up to Christmas and I
cannot
be treating myself to dresses, let alone expensive ones!
I have shopping (and selling!) on eBay for YEAARS! I am the Queen. I can spend hours flicking from page to page and am known to take bidding wars quite seriously. There are a LOT of gems on there and it is just a matter of finding them by using the right key words and search techniques. Don't worry I am not going to post anything that is an 'Auction' because that would be a bit silly as by the time you will have read this, the listing will have probably ended! Also it wouldn't be fair if three girls were after the same dress as only one could be the winner! So I have only chosen modern clothing that is new, have Buy It Now prices and multiple sizes and stock.
Purple Wiggle Dress
Sizes 8-16

Julien Macdonald Peplum Wiggle Dress
Red or Black
Sizes 8-18
£12.99

Oasis Floral Pencil Dress
Sizes 8-18
£12.99

Blue & Cream Wiggle Dress
Size 8-18
£15.99

Avaliable in Red, Navy, Mint and Black
Sizes S/M/L/XL
£11.99
Hearts And Roses London Pencil Dress
Comes in Black Cherry, Black Polka Dot, Plain Black, Blue Polka Dot
£15.99
Necessary Evil Neith 40s Dress Eyeball & Rose Print
Size Small Only (Sorry!)
£9.99
I just ordered this dress! Would look amazing with a red petticoat underneath. I love dresses with waist ties as I always have to take in my dresses at the waist.
Necessary Evil Feronia 50s Dress Eyeball and Rose Print
Flora Net Petticoat Skirt 25"
Comes in Pink, Purple, Black, White, Red and Ivory
Now, I know you can probably find petticoats cheaper than this, but these have super good reviews. I don't own a petticoat (yet) but I have heard you can go really wrong if you order a cheapy one e.g scratchy, not puffy enough, deformed, uncomfortable. So, always read reviews for them before you buy. It's better to buy one better quality that lasts you forever than three poor quality that you have to keep replacing.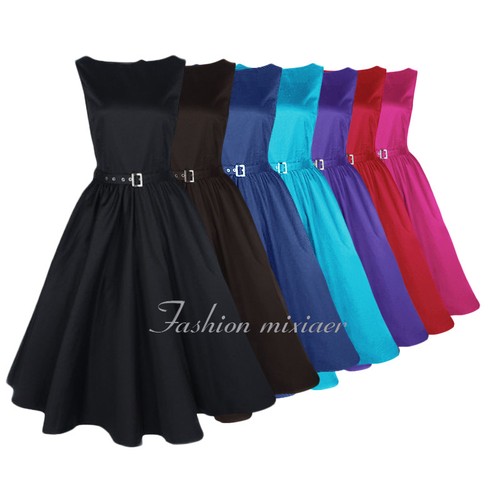 Comes in Black, Brown, Blue, Aqua, Purple, Red and Pink
OH MY GOODNESS, how perfect is this find!? I need ALL of these! When I saw these, I knew there would be trouble as in trouble to my bank account. I am seriously in love, especially as they have belts and come in such gorgeous colours.
RIGHT! All done... For now!!! I could go on for ages with eBay finds but I will keep doing these posts regularly as they have had positive feedback on Instagram! Please please please let me know if you've purchased or are buying because you have seen them on here as I would love to see them on and hear what you think about them! If I get any of them, I will maybe do a little review as I know it can be a little daunting ordering dresses online as you don't know about sizing and quality, but rest assured I will keep you updated!
I really hope you enjoyed that post, as I enjoyed it very much and definitely have some cheeky additions to my Christmas list.
I also found quite a few BEAUTIFUL dresses that are slightly higher in price... Around £25-£35 price mark... But these dresses were good quality and really beautiful, more like proper reproduction dresses so I'm wondering if you Girls would be interested in seeing a few of those. Maybe I'll do a separate post for those, but what could I call it!? 'Slightly more expensive Vintage Style On A Budget' Hahahah!
Thanks for reading! Talk soon!